*Disclaimer: This post contains affiliate links. I only recommend products I personally love and will always provide my honest opinion. If you purchase a product using my affiliate link, it will be at no additional cost to you and I will earn a small commission.
—
Everyone says it, I always say it, and I'm going to say it again: you need to keep learning new things in order to progress. New information can inspire you. It can help you understand how to be a better version of yourself. And most of all, it can help you look at familiar things in a different way.
But what does learning new things actually mean? Are you supposed to open a textbook and read it from front to back? Should you go back to university? Will it help if you learn all the countries in the world by heart and finally become decent at geography?
I'm not gonna lie, I would probably benefit from some self-taught geography lessons and I wouldn't mind spending one more year as a university student. But that's not the kind of learning I am talking about. So, how to keep learning?
When you're an entrepreneur, or even just a person aspiring to goals, there really is no limit to what you could learn. Every piece of information can be valuable in some way. It could inspire you to start looking into a business idea or look at a problem you had from a new perspective.
If you want to become a better you, you need to learn more about your goal, you, people and life in general. Sounds vast, doesn't it? But that's a good thing. Because it means that you don't have to go back to mathematics in order to progress in life (but you can if you want to!). Instead, you can keep learning anything that interests you and will add value to your life, your relationship and your career.
Learning new things through books and articles
I had to start with learning through reading because it is the most basic and obvious source of information. We all know textbooks and scholarly articles can contain a concentration of information. If you're into those, good for you. But if you're like me, you might find them rather difficult to get through.
Instead, try reading personal development books (I always recommend Stephen R. Covey), or more entertaining non-fiction books. Even fiction is great, honestly! I've learnt a lot of history from historical novels, for example. Stories that revolve around a certain subject will leave you more educated about it. And let's be honest, fiction teaches you a great deal about human relationships because you get to draw on the experience of other people (be it the author or the fictional characters) rather than relying solely on your own.
Find new things to learn through MOOCs
MOOCs are free online courses that you can attend over the internet. I came across MOOCs when I read an article on Medium, stating the best free Ivy League courses to take. Five minutes after reading this, I was already enrolled in a MOOC held by a Yale professor. Truth be told, I really wanted to go to Yale for my Master's degree but it was way too expensive – and I probably wouldn't have gotten in anyway. So when I got a chance to take a course from that university, I just had to.
Since then, I've been taking MOOCs on a regular basis. I've been mostly focusing on psychology because I'm really passionate about it, but you could literally learn anything you were ever interested in. I personally love Coursera's university courses because they're free and really good, but I've heard a lot of people talk about Skillshare, too.
Learning new stuff through MOOCs has helped me gain a better understanding of new topics. It has opened my mind to different perspectives and made for great conversation topics.
Learning new things through conversations
Speaking of conversations: these are great sources of new information, too. If you're wondering how to learn new things, just turn to the people around you!
Not too long ago, I started getting frustrated with my conversation skills. I constantly felt like the conversations I had were staying on a shallow level and I couldn't find a way to make them more meaningful. Do you know how sometimes you just click with people and are able to talk about anything? Well, I wanted to be able to achieve that with more people.
When I started my research on Google, I came across a Ted Talk by Celeste Headlee that I really liked. What I took away from it is that you can learn something from everyone if you only make the effort to listen. So instead of thinking about what you want to say, try to really listen to other people.
Good, meaningful conversations can open your mind to new topics that you haven't thought about. They can help you understand points of view that are different from your own. And since they're two-sided, they can help you come up with new ideas that you would have never had on your own.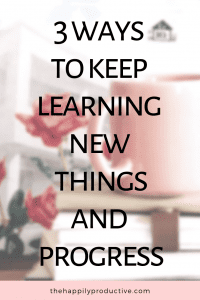 I hope that this post inspired you to learn something new, and given you some ideas on where to find new things to learn! If you liked it, please be so kind as to share it with your friends. 🙂