Have you ever felt like everything is wrong with your life, and you just aren't happy with anything? And worst of all, you have no idea how to get out of the situation you are in?
Feeling like your life is miserable isn't fun. I've been there. And I thought that I would never get out of it. Everything was too complicated, it wasn't up to me, and I basically just couldn't do it. But I did. And that's why I want to share with you how exactly I got myself out of this situation, and how you can do it, too.
Before you start reading though, it's important that you keep an open mind. Nothing can get better if you don't believe it can. You do have a choice (and if you don't believe me, read this).
Identify why you feel like your life is miserable
Identifying what makes your life miserable is probably the first advice that anyone will give you. But what I find particularly important is to identify only the things that make you miserable. It's so easy to start thinking that everything in your life sucks when you're in a bad place when really it doesn't.
For me, the things that made me miserable were my health, living in a big city, and my job that was constantly stressing me out. But because of these things, my relationship also suffered, and I was at times inclined to think that I wanted to get rid of that, too. Thankfully, I didn't. And once I fixed all the other issues, my relationship sort of fixed itself.
So, I suggest that you imagine what your life would be like if you changed one aspect at a time. This should make it easier to identify what actually needs to be changed, and what doesn't.
Do you have a job that makes you miserable? An abusive relationship? Or is it your poor health that makes you so miserable? What would your life be like if you changed one of these aspects?
At the same time, don't forget to be grateful for the good things in your life. Even if you feel like everything sucks, not everything does. And you don't want to lose the good things because you only focus on the bad (believe me, I know how tempting that is).
Decide what you want in a non-miserable life
Once you've identified what parts of your life need changing, you need to know how exactly you want them to change. For example, if you don't like your job, you can't just quit and stop working altogether, no matter how tempting that may seem. Instead, you need to find something you would like to do instead of your current job.
It's not easy to find ways to make your life better, especially when you feel like nothing works for you. But you have to remember that this feeling will pass once you start tracing the way back to a life you love.
Draw inspiration from past experiences you enjoyed. Remember why you enjoyed them, and how they were different from the miserable parts of your life.
I remembered how I loved living in a smaller town, as well as learning new things and working on challenging projects when I was at university. In the end, I realised that I wanted to move and that I would actually love to start my own business one day.
Sometimes, things only need little changes to get better. Sometimes, you got to pack up your life and leave everything behind (I kind of did that).
Define how you would love your dream life to be, even if it seems impossible. Nothing is impossible if you really want it!
Find ways to get out of your miserable life
Once you decided what you want your dream life to look like, you need to find ways to make it that way.
It's important to focus only on what you can change. There's no need to get stuck on things you have no influence over. Instead, let them be and choose how you want to accommodate them in your life.
In addition, you need to think everything through to the end. You don't want to make changes just for the sake of making changes! Everything you do should get you closer to where you want to be.
In my case, I knew that I couldn't get rid of my health issues, but I would be able to deal with them better if I worked from home. And I would be able to work from home if I started my own online business. So I started researching everything, collecting ideas, talking to people who might help me achieve my goal.
But I didn't just do it. I worked out different plans to make money while I was trying to start my business, made sure that my boyfriend was on board, and incorporated my wish to move away from the city. It wasn't a smooth ride, but I'm so glad that I took the time to think it through and come up with the best ways to do it.
Make the changes for a better life, no matter how scary it is
If you're feeling miserable in your life now, remember that things can only get better.
I was terrified to start over, too. I was scared that I wouldn't make it and I was scared of failure. But when you're unhappy with your current situation, every thoughtful change you make is worth it. It might turn around everything like it did for me. And after all, failure is always better than not even trying!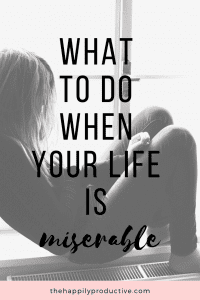 I really hope that you found this post helpful! And please share your story with me if you like!