*Disclaimer: This post contains affiliate links. I only recommend products I personally love and will always provide my honest opinion. If you purchase a product using my affiliate link, it will be at no additional cost to you and I will earn a small commission.
—
As an introvert, you can sometimes have the tendency to start living inside your head a little too much.
I started reading The Perks of Being a Wallflower yesterday. And no, this is not a book review (although I love the book)! But there is one passage where the main character explains to someone what he's thinking about, and that other person tells him to be careful because sometimes people who think that much use it as an excuse not to participate in real life. They're living in their head, basically.
This somehow really resonated with me. Because I'm so guilty of living inside my head.
Noticing that you're living inside your head
For the past week, I've been home alone because my boyfriend is out of town, I hadn't had tons of work because everyone seems to be on vacation, and I still don't have friends where we live.
And during this time, I've become obsessed with Harry Potter (for the 20th time in my life, I guess). I've reread all the books, started rewatching all the movies, and it got really bad when I caught myself watching YouTube videos about Harry Potter conspiracy theories online. I don't even like conspiracy theories!
That's when I noticed that I was spending way too much time on really unnecessary things. And what I should do is spend that time doing stuff!
Of course, I'm not saying that reading is bad. Reading is great. If I had stopped at reading or even rewatching the movies that would have been fine. But the truth is, I tend to get caught up in something and don't want to let go, and that is the main problem.
Being an introvert doesn't mean that you don't need other people
I guess that it's an introvert thing, really. I can't imagine an extrovert living inside their head, as they need interactions with (real) people to recharge.
As an introvert with a little too much imagination, I need to be careful not to neglect the outside world. The interaction with real people.
I started small. Calling my best friend from home. My grandparents. Discussing video games I know nothing about with my little brothers.
Then I forced myself to go outside. Right now I'm writing this post sitting in my garden, which is basically still at home but doesn't allow me to ignore that I have neighbours and need to mow our lawn. I'm going to do that later, too.
I'm also going to go to the grocery store, not because I need anything specific, but because there are people there.
It might just be me, but I do tend to live in my head too much when there's no one around to get me out of it. And I have to learn to be that person for myself.
Even introverts need outside stimuli to progress
We all know that introverts get their energy from within. But that doesn't mean that we're self-sufficient, because I truly believe that no human being is.
It's great to be able to keep your brain busy for hours, but it doesn't mean that that's all you need. Everyone needs regular human interaction to challenge themselves, get outside their comfort zone, and progress.
There's nothing inside your head that you don't already know. But there's still so much to learn. And sometimes a little piece of information given to you by somebody else is all you need to come up with amazing ideas.
Independence is great, but it's not enough
I'm currently reading Stephen R. Covey's 7 Habits of Highly Effective People (yes, I'm reading multiple books at the same time) and he talks about how independence is great, but how we can create even better things when we work together. And I believe that.
I guess that modern society puts so much emphasis on independence, and we as introverts tend to feel quite independent anyway. And it leads us to forget how much we actually need the people around us.
And they're not going to come looking for us: we have to go looking for them. I'm not yet sure how exactly I'm going to do that, but I'll try. And I'll keep you updated if I find anything that works!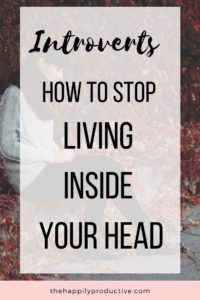 Until then, please tell me how you keep from living inside your head too much, I would really appreciate any suggestions you might have!