Have you ever had this feeling? You want to keep progressing. You know that there's still so much to do to even get close to your goals. And yet you have no idea what your next step should be.
For me, it comes in waves. I either have 50 things I want to do all at once, or I feel completely stuck. So I decided to sit down and think about all the things I should do to stop this feeling. And since I'm writing it down anyway, I thought that I might share with you my ideas on how to keep progressing.
Acknowledge that starting is the easiest part
I've felt stuck a lot since I started my blog and freelance business. Setting everything up is easy – in my opinion, it is truly the easiest part. You know what to do. You know that you need a website. You know that you should create an email list. You know that you need to write.
There is tons of useful information out there on how to get started. Unfortunately, there is not that much useful information about how to keep going.
Sure, you can learn about marketing techniques and stuff. I did, I still do, but I don't see anything happening, really.
I created a Facebook page for my business because everyone told me to do it. And have absolutely no idea what I should post on it. I do translations – how do you market that on Facebook?
I share my blog posts on social media, and yet after assisting approximately 20 courses on social media marketing, I didn't discover anything I hadn't tried yet, and I see no miracle results as all those courses promised.
To be honest, I feel like tons of people create their business to "help others create their business" although they never actually created anything themselves… and people like me, striving to get their business going, fall into their trap and that's why nothing comes from it!
Starting is the easiest part because it is concrete. It's much harder to keep on progressing because it's not.
Don't lose your motivation to keep progressing
If you're like me, you might come to a point where you feel like you tried everything, and nothing works. If you're' really like me, you get to this point about 5 times a week.
Whenever I discover a new strategy to try, I get into it 100%. I will keep working until I did everything the strategy requires me to do. And then I wait. And it's the waiting part that gets me frustrated. If I don't see immediate results and I don't know what else to do to get them, I start to feel stuck. To feel like a failure.
But I think that the important part is to never lose motivation. And for that matter, it's important to not sit around and wait, either.
You may see results now, in a month, or never, but in any case, there is no point in waiting for them. You have to keep progressing in life.
It's just the same as waiting for the reply from a job interview: you just don't do that. You go to the interview, do your best, and then move on to the next one. It's never a good idea to wait. All it does is stress you out, disappoint you if you don't get it, and waste your time.
Always plan multiple steps ahead
The biggest reason why we get stuck and feel like things are not progressing is that we only plan one step at a time. And once we accomplish that step, and especially if we fail at it, we don't know what to do.
If you're working towards a goal, look for every single possibility there is to get to it. Write them down somewhere, plan them out, assess their feasibility and only then decide where to start.
Trust me, it's so much less nerve-wracking to fail at plan A when you have a plan B, C, and D that are equally as good.
Look for different sources of knowledge to keep progressing
It is important to always keep learning. And the more time I spend on personal development, the more I realise how much we actually have left to learn about each aspect of our lives. It's truly the principle of "the more you know, the more you realise how much there is left to learn".
If you're starting a business like me, there's tons of practical knowledge you can acquire. But that's not all there is to learn. There are finances and money which is relevant for so many people who are trying to save or just live, really. There's learning how to listen to people. How to maintain a healthy relationship. How to become a better version of yourself.
I've been obsessed with books, videos, and blogs about personal development, and I've come across a couple of truly great ones that I'll share with you very soon. But the point is, you can't just stick to one source. Open your eyes, look around you, and take every opportunity there is to keep learning. It's a great way to keep progressing in life!
Sometimes all you need is a break
There were so many times where I was staring at my computer for hours, scrolling through endless useless sources of information to try and figure out my next step.
Honestly, that's just a waste of time. Because sometimes, all you need to keep progressing is a break. And by break, I don't really mean watching Netflix (although that is good sometimes, too). I mean doing something you love.
For me, it's reading, talking to loved ones, going outside. Taking online courses, too. I just discovered a bunch of free online Ivy League courses and I already bookmarked a ton! Learning things that aren't necessarily related to what I need to do are sometimes the best inspiration. You let your brain take a break from stress, and sometimes this is all it needs to come up with new creativity.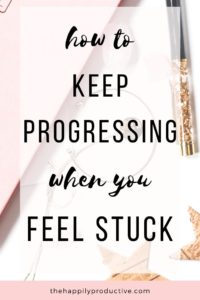 So there you go, these are all the tips that help me when I want to keep on progressing. For now. I hope that I'll keep learning every day and be able to write an updated version of this post sometime.
Until then, I'd be so happy if you could share your tips with me!