Shyness is often considered to be negative. For me, if someone tells me that I'm shy, I get straight up offended. Not because they mean it as an insult, but because I tried so hard to overcome shyness ever since I was a kid.
When I was little, I used to get extremely anxious around people I didn't know. I hated greeting other kids in the street. When the teacher called out our names and we had to shout "yes", I was petrified. Somehow I got so scared that I would lose my voice at the very time my name was called.
Being shy is not easy, as it constantly leaves you feeling self-conscious and anxious. But as I got older, I got better at these situations. I started caring less about people's opinions of me. And I don't freak out anymore when I have to talk to strangers.
I don't consider myself shy anymore, at least not in every-day life. Things like public speaking are still a no-go for me, but I believe that if I needed to, I would be able to get used to even that.
In this post, I want to share with you different tips to overcome shyness as an introvert. I hope that you find them helpful!
Understanding shyness vs. introversion
Shyness is not the same as introversion. And in order to get rid of shyness, you really, really need to understand the difference.
Psychology Today defines shyness as "the awkwardness or apprehension some people feel when approaching or being approached by other people. Unlike introverts, who feel energized by time alone, shy people often desperately want to connect with others, but don't know how or can't tolerate the anxiety that comes with human interaction."
Basically, shyness means that you're anxious around other people. If you're like me, you might feel like they're judging your every move, which in turn makes you really awkward.
Have realistic expectations about overcoming shyness
Overcoming shyness doesn't necessarily mean that you'll become an outgoing, extroverted person. Indeed, if you're an introvert like I am, it might just mean that you'll be a more confident quiet person.
Having realistic expectations is crucial so you don't get discouraged. Overcoming shyness is possible, and it will make your life a million times easier. But it won't change who you are.
I still love to be in my own space, I'm still not interested in meeting new people all the time. But at least I'm not scared of meeting new people, and my shyness isn't holding me back from social interactions anymore!
Overcome shyness for you, not for them
You can't go into the whole process thinking that others will like you more if you're not shy. That's not a valid goal, and it won't work.
You should never follow a goal for the only sake of someone else's approval. You shouldn't be dependent on someone else. Everyone has their moods, good and bad days, and their own problems.
Being dependent on someone else's opinion means that they'll bring you down with them if they have a bad day, and you won't have the force to lift them up. It's like being an empty cup waiting to get filled, and that's just not a good way to live.
Instead, let your motivation to get rid of shyness come from within. YOU need to like you more. This journey is going to be about you, and it's so worth it!
Remember that people don't spend that much time thinking about you
For me, the worst thing was always the fear of making a fool out of myself. For literally everything. I always felt like people were watching my every move whenever I had to do something out of my comfort zone.
For example, I hated ordering food because I'd always feel like I wouldn't talk loud enough, or say it weird, or whatever.
But people actually don't spend that much time thinking about you. Everyone has their own problems, and they aren't paying closer attention to you than to anyone else.
Realising this has helped me a lot because it made me feel less awkward in new situations. Knowing that I wasn't constantly under observation made it that much easier to overcome shyness.
Stop judging people
When you feel like everyone is judging you, it's far too easy to start doing the same thing to them. Thinking that someone is mean although you never talked to them, for example. Or assuming that someone doesn't like you although you can't know that.
I've been there, I've done that. And maybe it was true sometimes. But I know that most times it wasn't. I've assumed that people didn't like me in school, and it turned out that they didn't even know that I went to their school. Obviously, I never talked to them.
Not judging people is a great way to overcome shyness at work or in school, where you come across lots of people whom you don't know well.
Not only is life far easier when you don't make negative assumptions, but it also makes you seem way nicer. And you won't be missing out on beautiful friendships because of your own misjudgment!
Get out of your comfort zone to overcome shyness
One of the best ways to overcome shyness is by continuously pushing yourself to do things you're afraid of.
It could be speaking to strangers, making calls, public speaking, etc. The more you do it, the more small victories you'll have. And situations that scare you now won't be scary after you've done them 5 times.
Just take one small step at a time so it's not too scary: do something that's a little outside of your comfort zone every day.
You can't get rid of shyness in one day, but if you are kind to yourself and keep working on it little by little, it'll get better fairly quickly!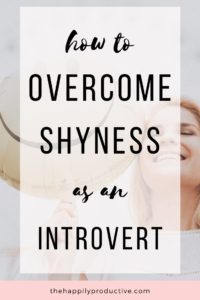 If you liked this post, please be so kind as to share it with your friends. 🙂