Do you want to be motivated every day? Productive all day long? Then this article is for you.
Accept the truth: constant motivation is a myth
Motivation seems to be something that everyone is striving for. Everyone wishes to be motivated and productive every day. Everyone is looking for that secret ingredient that will help them be on top of things every minute of every hour of every day.
Well, that doesn't exist. Certainly not for me, and probably not for anyone. You can't be on top of everything every day. Every day is different, and trying to be perfect will only leave you stressed and exhausted.
For me, the secret to staying on top of things is to go with how I'm feeling. I know that I won't be motivated and productive every day as soon as I wake up. Most days I actually wake up rather unmotivated to work, and that's quite okay. I move forward anyway, and so can you.
The important thing is not whether you feel motivated in the first place, but whether you're able to still be productive and get things done.
I already talked about ways that help me get things done when I'm not feeling motivated and how to keep progressing when you feel stuck, but in this post, I really want to focus on day-to-day productivity and motivation.
Start by being grateful for what you already have
The first thing I always do to get myself in a productive mindset is to remember why I need to keep going, and why it's all worth it. There are different ways of doing so I believe, but I think that it's always helpful to start with something positive.
Remind yourself of all the good things in your life, everything that you have already achieved. Remember that you are grateful for your family, friends, lifestyle, job, health. That you managed to finish school. Or that you got a university diploma, maybe. That you found a job, or that you managed to stick to that fitness program.
This might seem like such a little thing, but it always reminds me that I'm not starting from zero and that I am able to achieve things.
What is your drive to be motivated and productive every day?
Once you've established that you have things to be grateful for, you can move on to your current projects. What is your motivation to be productive every day?
What will happen if you don't do the work? Think about the worst thing that will happen if you don't get going.
Thinking about negative consequences is a sort of motivation, too. You motivate yourself to be productive so you don't end up in the worst-case scenario that is forming in your head.
Then, think about all the good things that could happen if you do the work. What could you achieve? Would you be proud of yourself? How could your life change? What opportunities might lie behind your success?
Remembering the positive consequences and comparing them with the negative is a sure way to get yourself at least a little motivated. I mean, you basically owe it to yourself!
And if your worst-case scenario doesn't seem that bad and the best-case scenario isn't quite exciting, maybe your project isn't worth it after all!
Motivation comes while doing things
Let's be real: even if you remember your goal and know why it's important to keep going, it can be hard to actually start working.
The first two steps are important to create the right mindset, and it really helps to take a couple of minutes every day to think about them. But it doesn't mean that you'll be ready to jump up and get to work!
So, how can you be motivated to be productive and get going?
What helps me is just starting. I know, it sounds weird. But you don't actually have to start 100%.
I usually get my laptop and open the thing I want to work on. Even if I'm sitting on the couch watching Netflix at the same time. Even if I just look at it for a while.
Having your project in front of you makes it easier to start working. Slowly at first, but it gets better once you get into it.
Because once you've started, the motivation slowly comes back. You remember that it's really not that bad. Maybe you love your work and remember that it's actually quite fun.
After a while, you might be ready to turn off Netflix and get back into work mode. Or not, that's okay too. At least you're doing something, and being productive.
Make a short to-do list to boost productivity
I have written an entire post about the benefits of to-do lists already, but I can only stress again that they are a wonderful tool for organising your thoughts and getting started!
The main thing that I like about to-do lists when I want to be more motivated and productive every day, is that they help me move from one task to the next.
Once I've started working and finished one thing, I can quickly feel unproductive if I don't know what to do next. So preparing a to-do list in advance really helps me just move on to the next task.
Try working for 15 minutes at a time
Working for 15 minutes at a time is a great hack if you're feeling really unmotivated and unproductive. I specifically like 15 minutes because it's such a short time. 30 minutes can feel daunting, but 15 minutes rarely do.
It's better to work for 15 minutes than not work at all. So set yourself the goal to work on your projects for 15 minutes, and then you're allowed to stop. It's easier to get started this way, and chances are that you won't actually want to stop after 15 minutes. Whenever I do this, I usually end up working for quite some time because I got into it.
But even if you don't continue after these 15 minutes, you still got something done and feel more productive. And if you do this multiple times throughout your day, you're still getting things done!
Choose a reward to boost efficiency
Thinking of something that I will be able to do once I'm done really helps me work faster and more efficiently. It gives me something to look forward to, and I end up finishing faster because I can't wait to get to my reward.
Your reward can really be anything: watching an episode of your favourite show, going out with friends, reading a book, cooking food… And the good thing is: it will make your days feel much more relaxed, instead of feeling like you don't have time for anything!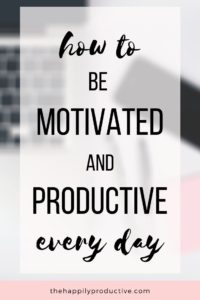 I really hope that this post will help you be motivated and productive every day! If you liked it, please be so kind as to share it with your friends. 🙂