Are you still looking for the perfect to-do list for your lifestyle?
For years and years, I've been creating my to-do lists the exact same way. I wrote about the importance of to-do lists to deal with stress, how to use them to tackle big projects, and so on. All based on the type of to-do list I religiously wrote every day.
However, I've noticed that I had to change my to-do lists lately. And that is because my lifestyle changed.
Instead of being in charge of my own schedule, I've suddenly had to keep track of a client's marketing calendar. Unlike usually, I wasn't able to complete tasks whenever I wanted but had to rely on other people to get their part done.
But why did this minor lifestyle change affect the way I created to-do lists?
I thought about it for a while. Analysed how people around me used their to-do lists. And finally, I was able to break down what different types of to-do lists fit people with specific lifestyles.
And since I've already done all the work in my head, I wanted to share it with you. Are you ready to discover the perfect to-do list for your lifestyle?
The daily to-do list & master to-do list combination
It's perfect for: Entrepreneurs. Bloggers. Freelancers who make their own schedule. Everyone who is in school or university.
The daily to-do list is something I have used for most of my life. It works like a charm to organise your day working from home!
It's great for entrepreneurs and bloggers. You can write down all of your amazing ideas on one big list. Then, you decide every day which of these tasks you want to tackle today.
Freelancers who make their own schedules can use it to plan out the different tasks they have to accomplish – in their own time.
And it's also the perfect to-do list for your lifestyle if you're in school or university. Most of your work can be done as soon as you get the assignment. And this to-do list helps you keep track of all your tasks (master to-do list) and each day's work (daily to-do list).
The 5-days-a-week to-do list
It's perfect for: Employees. Moms and dads who need to keep track of their kid's activities. Freelancers who have to follow their clients' schedules.
The 5-days-a-week to-do list is perfect for those who can't freely decide which tasks they want to tackle each day.
For example, if, like me, you're working for someone who requires you to send out 3 newsletters a week.
You have to wait for people to design the newsletters, write the texts, code the whole thing and send it to you. Only then can you actually do your work.
Thus, instead of being able to finish your tasks in advance, you have to schedule them the day before they're due. Or are companies in France particularly last minute?
Anyway: whenever your schedule depends on other people, it's best to have one to-do list for the whole week. It allows you to see all your tasks, even if you're not able to complete them just yet.
At least you won't forget that report that you can only do on Fridays!
Similarly, for parents, it can be helpful to keep track of weekly activities. If your child has a bake sale on Wednesday, you'll need to bake a cake on Tuesday. This just can't be done in advance.
Keeping a comprehensive to-do list for a whole week makes sure that you get everything done on time and don't suddenly forget a task.
So, if you need to track a weekly schedule, this might just be the perfect to-do list for your lifestyle!
The weekly to-do list
It's perfect for: The free-spirited. Those who prefer to go with the flow. Everyone who is sick or feeling under the weather.
The weekly to-do list is similar to a daily one. However, you keep the same list for a whole week and tick off tasks as you go.
The major difference is that the weekly to-do list takes off any pressure. You're completely free to decide what you wish to do at each given moment.
I love using this type of to-do list whenever I'm sick or feeling unwell!
This way, I can just get something done whenever I can. And when I don't, I'm not feeling guilty because I won't finish my daily tasks. It's okay, I can still do the rest tomorrow!
The weekly to-do list is the perfect to-do list for your lifestyle if you don't want to add any stress, but still need to write down your tasks so you won't forget them.
Just be sure to keep it short enough to still be achievable!
The only down-side of this type of to-do list is that you need to have self-discipline. You can't procrastinate it. Otherwise, you'll just end up with a giant list for Friday. And surely, we can all agree that that's not ideal.
If you find yourself procrastinating your weekly to-do list, try using a daily one instead. Just make it really short to avoid getting stressed.
The reminders
It's perfect for: Everyone who believes that pen and paper are remains of the past. Those who use their phone a lot during the day.
Some people swear by reminders. While many (like me) use them only occasionally, others prefer to enter their whole to-do list into their phone to make sure that they don't forget.
If you have trouble using a traditional to-do list or remembering to look at it during the day, then this might be the perfect to-do list for your lifestyle.
It's great if you check your phone a lot. Or if you're out and about all day and it's the only thing you can easily carry with you.
Reminders can also be a life-saver if you get sucked into your phone too much and need a way to not forget your work over it.
Just be careful to actually follow your reminders. They're no use if you simply turn them off without doing the task!
The inbox to-do list
It's perfect for: Office employees who work on their computer all day. Everyone whose tasks consist of things they get send per email.
If you get tons of emails during the day, then this one's for you. Why bother writing out everything when people have already put their requests into words?
Using your inbox as a to-do list works great. And here are 2 ways to do so:
Put all treated emails into folders and only leave untreated emails in your general inbox
By putting away all emails that you've dealt with, you reduce the clutter in your inbox. Out of sight, out of mind. And why would you want to fill your mind with what's done already?
The only emails left are those you need to work on. It's rather practical, actually. All you have to do is tackle them one by one until your inbox is empty!
Mark all untreated emails as unread
Not everyone wants to put all their emails into folders, I get that. It can make it harder to search for a specific email. And if you're dealing with a lot of different topics, that just makes too many folders.
In this case, you can simply mark everything you need to take care of as unread. Even though you'll obviously read all emails before doing that!
This way, you can easily filter the ones that need to be treated.
If you don't care for paper lists and prefer to have everything on your computer, this is probably the perfect to-do list for your lifestyle.
Of course, you can always use your inbox to-do list in conjunction with a paper to-do list for more general tasks. This is what I always do!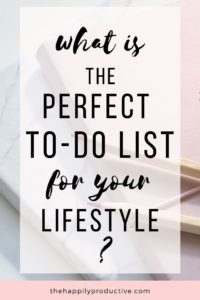 What do you think? Has this article helped you find the perfect to-do list for your lifestyle?
If you have any additions or comments, please leave them down below to help all of us out!
And don't forget to share this post on social media if you liked it. 🙂