Working from home is great. It gives you freedom, flexibility and the opportunity to plan your daily routine in a way that suits you best. But like everything else, it also has its downsides. You're more prone to procrastination, distraction, working until late at night and forgetting to socialise. Basically, it's not that easy to organise your day when working from home!
It's been a year since I've started my new career journey and I wanted to share with you my favourite tips to help you organise your day when working from home.
Get up at the same time every morning
It can be so tempting to sleep in when you don't have anywhere to be. But let me tell you: sleeping in can be the worst enemy of productivity when you're working from home!
First of all, your body needs a routine to function properly. Even if you don't need to start working at a specific time every morning, it's best to stick to a certain sleep pattern that will assure that you're energised and focused. I try to get up at approximately the same time every day, around 7 am – even on the weekends. By now I am so used to this time that I'm not even that tired when my alarm rings.
Recently I've even been using a sleep cycle app to track my sleep pattern and wake me up at the best moment within the time frame I set. So far I've found that it works quite well!
Another reason to avoid sleeping in is that when you wake up late, you'll be tempted to start working right away. And that's not a good idea!
Whenever I do wake up later, I usually feel guilty and go to my computer first thing in the morning. And before I know, it's 5 pm and I still haven't taken time to get ready! Doing this can really take a toll on your productivity and make you feel sluggish throughout the whole day.
Getting up at the same time every morning really is the first step to organise your day when working from home!
Follow a work-from-home morning routine before starting your work
Even if you're not leaving the house right away, it's still important to take the time to get ready. The right morning routine will energise you and help you stay focused and productive!
After waking up, start by making lemon water and get ready for the day before even looking at your computer. Get dressed, take a shower, have your coffee and make yourself feel good. I also love to exercise before work because I always feel so much more awake afterwards.
Whenever I don't get ready right away, I tend to avoid going outside (because I look like crap) and generally don't feel my best, which in turn impacts my performance. And if I don't drink water first thing in the morning, I often forget to drink altogether and get a headache a couple of hours later.
So, don't start your workday at home until you feel ready to tackle it. You'll get so much more done if you take that little bit of extra time in the morning! And you'll be far more productive when working from home.
Always have a to-do list to organise your day when working from home
I keep mentioning to-do lists in every single one of my productivity posts – and for a good reason! Short and prioritised to-do lists really make a world of a difference and help you organise your day when working from home.
Personally, I always keep daily to-do lists that are short enough not to overwhelm me. And I love including all my tasks (not just work) on there! You can read about my recommendations on to-do lists and prioritising in more detail here and here.
Keeping a to-do list will structure your workday and boost productivity at the same time.
Designate a specific workspace in your home
Having an office or a designated workspace in your home really helps with the separation of work and personal life. I have set up my office in the guest bedroom: I open it every morning and close the door in the evening when I'm done with my work. My computer stays there, too, so that I'm not tempted to continue working until late at night.
Whenever I work on my bed or my couch, I get distracted a lot faster and tend to be less productive overall. And I also have a hard time switching off at night, because everything around me reminds me of work and I keep thinking about my to-do list for the next day.
Having a designated workspace really does boost your productivity and helps create that good work-life balance we all strive for!
Take small breaks after every task
I love to start my day with the most important task on my to-do list and finish it before breakfast. Not only does this make sure that the task is done, but it also helps me take a relaxing breakfast break before I tackle the rest of my list.
Throughout the day, taking small breaks after every completed task establishes a reward system that keeps you motivated and productive. You can use your breaks to go outside, get groceries, call your grandma, do laundry, or even read or watch some YouTube videos.
When you organise your time like this, you won't feel exhausted at the end of the day. And you won't have a pile of work around the house waiting for you, either!
I always enjoy balancing work with other things that I need or want to do because it makes me twice as productive while still giving my brain a break. And it makes me excited to finish the task I'm on, which makes me work more efficiently!
Take the time to make healthy food
When you're working from home, it can be so tempting to just grab a quick snack instead of cooking real food for lunch. For the first few months of my journey, I've been living off pasta and pesto!
And yet, eating unhealthy snacks and fast food will leave you feeling tired in the afternoon and is also not a good idea in the long run. Instead, find healthy foods that you can cook really quickly. I love buying frozen vegetable mixes for that. I'll usually throw them in a steamer and eat them by themselves if I really don't have time, or use them to make myself a simple meal.
Having a healthy lunch break really does help you organise your day when working from home, even if it's a short one!
Find time to go outside and socialise
My biggest problem with working from home is that I don't go outside enough. It's just so tempting to stay in and work all day!
I suggest that you find a way to spend at least 30 minutes outside every day, no matter how busy you are. You could go for a walk every morning or evening, walk to the grocery store instead of driving, sit in the garden and read for a while…
It's also a great idea to have different (social) activities planned in the evening. You can take classes, go to the gym, meet up with friends or go for a drink with your partner. This also helps you end your workday properly, which leads me to my last point:
End your at-home workday
Always remember: it is not a good idea to work until you go to bed. You'll have trouble sleeping, won't be productive the next day, and lose motivation really quickly.
No matter how you organise your day when working from home, it's crucial to leave time for your personal life. You don't have to end your day at the same time every evening, but make sure that you end it properly by shutting off your computer and closing the office door behind you.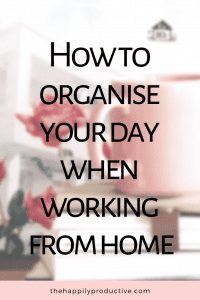 So here you go, those are all my tips to help you organise your day when working from home! If you liked this post, please be so kind as to share it with your friends who work from home!